Amazing things
Hiya everyone

Thank you all of you who's been wishing me well... It's definately working, and I'm about better now... though I've been left with this mysterious twitch in both eyes. Apart from that I'm not so bad at all, thanks!



---
There's two things I want to share with you today. The first is something which is a hot topic at work over the last couple of days...
I first notice the subject of this controversy on Monday. As I passed by one of the large Science block windows, I happened to look out across the road dividing science from English and Drama. There I spied something I had to do a double take on. It has to do with this very normal-looking rose bush:
It really is a very lovely rose bush, with perfectly formed roses of a beautiful rich colour (sorry, the pictures had to be taken in a hurry, as I was on the way somewhere at the time, and snapped them as I passed):
No, what it is that everyone is talking about is the tenacity of this plant. It is just a normal rose bush, but there is an unusal strength about it that is making people stop and stare.... Why?
Because, just look...
That beautiful rose has quietly and continuously, over the years (according to Tony, the caretaker) grown up inside the weather boards... all the way
up to the top of the building, so it looks like someone has decorated the wall by hanging this crimson-splashed branch from the rooftop ( in fact, this is what I had at first thought!).
Of course, there are those who think only about the negative... "I've had to complain about that rose. The bush will have to be cut down - it's undermining the structure of the building, probably causing no end of damage..."
And then there's the rest of us, who think it's truly amazing that a stem in the darkness has spotted a chink of light right up at the highest reaches of the building, and kept growing and growing until it reached it, then it sent out leaves and flowers... to wow us:
It makes me think of how, when someone has a vision no-one else can see, they persevere with their growth towards it, until one day that vision blossoms into a reality.
I really hope they don't chop the flower down!
---
The second thing is this blog that my two walking companions and friends,
Jazz and Sparky
, found through their new friends
Butchy and Snickers
called
The Adventures of Sir Chance-lot
The pictures his mom has done are very special. I can only show you a couple here... this one is of Butchy and Snickers themselves:
And this one I took off his post
A Tribute to Dakoata: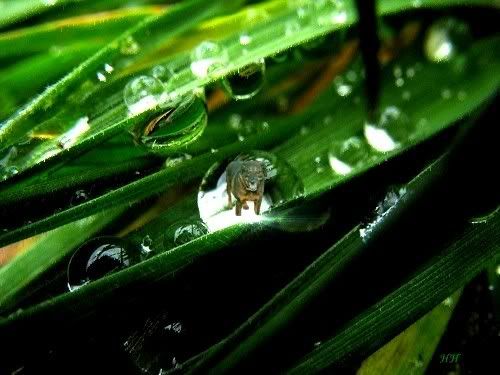 But, though these pictures are great, to see some of Sir Chance-lot's mom's most excellent pics, take a look at his post
Some Pictures My Momma Made
! Some of them are really fantastic, and knowing how much you folks appreciate good pictures, I'd recommend you pop over there. I'm sure you won't be disappointed! :-)
© Annelisa Christensen 4:20 pm


​